223 Crawford Rd. New Smyrna Beach, Florida
The Cottage (in-law) Video Tour
Offered at $1,549,000. The Historic Boarding House on Crawford is four bedroom, four bathroom home with a detached in-law suite that includes another bedroom and bath. This unique 1923 home has a HBOD (historic building overlay district) zoning classification which allows for short term rentals with owner occupancy. North Beach in New Smyrna Beach has a very limited number of homes zoned for short term rentals, most of which exist in the busy area of Flagler Avenue. 223 Crawford is nestled a block from the beach and a 7 minute walk to the shops and restaurants giving owners and guests a quiet neighborhood experience just a stones throw from the hustle and bustle of the Avenue.  
223 Crawford Rd Home Facts and System Information
HBOD Overlay – allows for B&B short term rentals with owner occupancy.
All units have been brought to rental and fire code per City of NSB. 
Rental income March-October of 2023 is $78,000.
Metal roof 2017
Appliances 2018
Home was built in 1923, with historic plaque marked as 1925 Historic Boarding House of Crawford.
Updated kitchen
Many of the original pine floors still intact  
Ground floor primary suite
Parking space for each unit
Two car garage
Utilities average $600/month for main house and in-law. In-law is on a separate meter so can be billed to tenant if using for long term occupancy. 
Owners currently have Citizens Insurance at $8k/year. 
AirBnB Listing Links: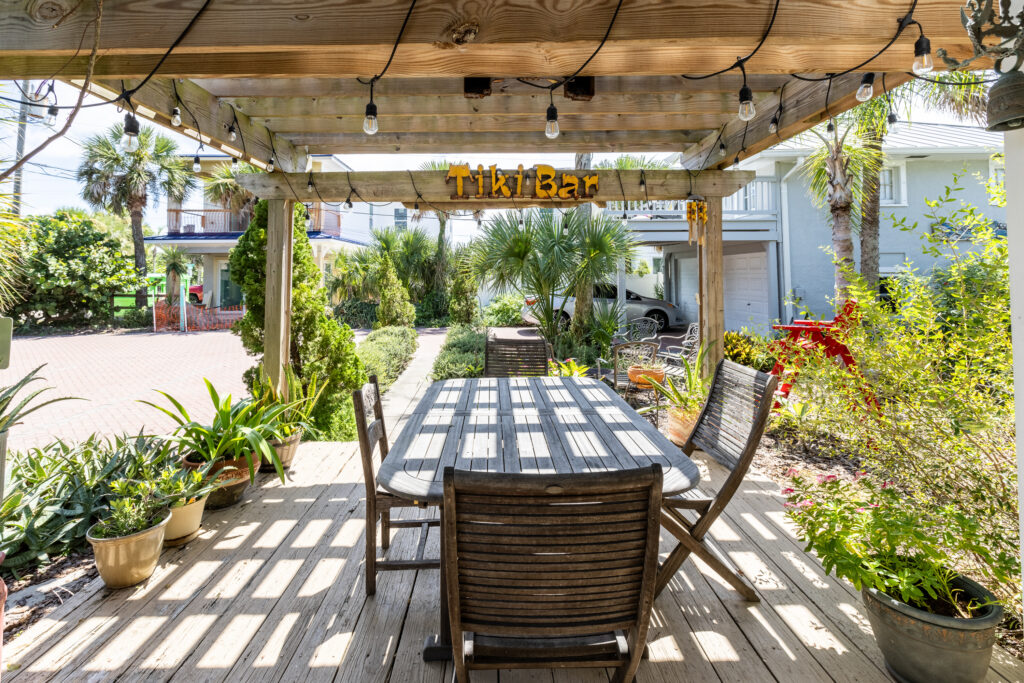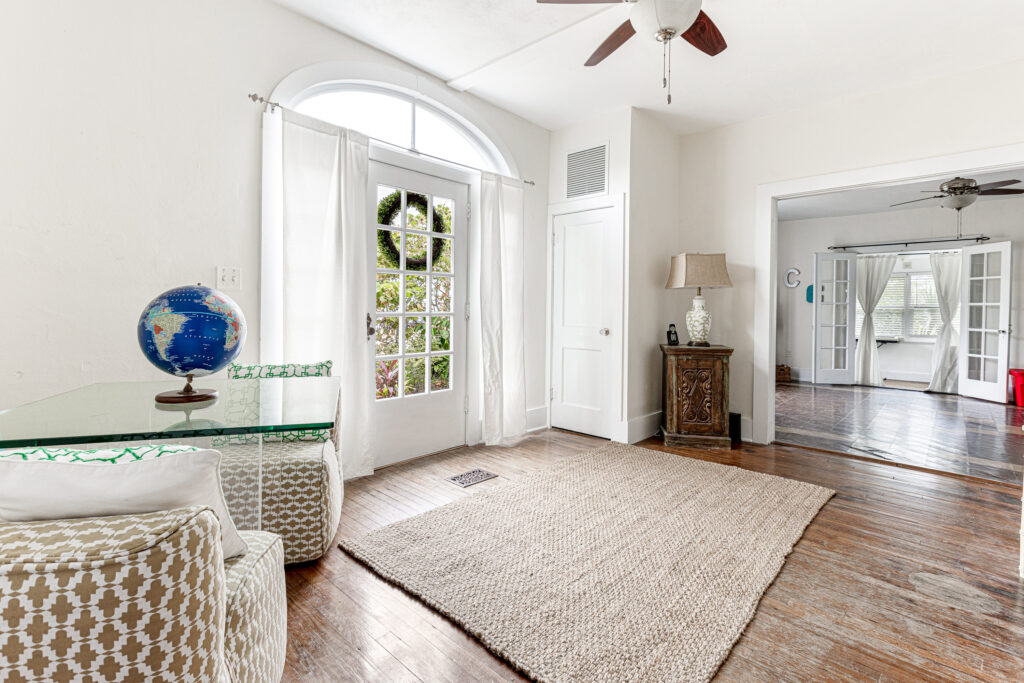 223 Crawford Road Proximity to Amenities of New Smyrna Beach
1 minute walk to the beach (or less)
2 miles to NSB inlet and Smyrna Dunes Park
6-8 minute walk to Flagler Avenue restaurants and shops
6 minute drive to Publix shopping plaza (Indian River Plaza)
8 minute drive/golf car ride to historic Canal Street and art district
4 minute drive to boat ramps
15 minute walk/4 minute drive to Detwiler tennis/pickleball courts, basketball court, and playground
15 minute drive to Canaveral National Seashore
15 minute drive to I-95
30 minute drive to I-4
A little more information about New Smyrna Beach
New Smyrna Beach is a small beach town with a population around 32,000. The city consists of two zip codes. 32169 is known as the beachside and includes all of the barrier island along with Coronado Island (located between the barrier island and mainland along the North Causeway). 32168 consists of the mainland, all areas west of the river. New Smyrna Beach became famous because of it's notoriety as a surf destination, however it has always been frequented by travelers from all over the world for it's pristine beaches and small town feel. Buyers looking for an opportunity to capitalize on vacation rental income will find that the city has limited zoning for short term rentals (less than 1 month) in the single family home category, see our investment page for more information. Single family homes in New Smyrna Beach within county zoning are not permitted to short term rent. There are an abundance of condos for sale that will meet short term rental needs. 
New Smyrna Beach has two "downtown" areas. Flagler Avenue is the downtown of beachside and boasts a variety of restaurants, bars and shops. Canal Street is NSB's historic downtown. Canal Street also has a variety of restaurants and shops, and is surrounded by a gorgeous art and historic district. 
Wildlife in and around NSB consists of a variety of native birds, of course marine life. Affectionately known as the "Shark Bite Capital of the World" due the large number of surfers that frequent our north jetty "The Inlet". Not to worry, the majority of nibbles are not severe. Manatee and dolphin are seen year round in the waterways and ocean. Ospreys, blue jays, robins, sea gulls, pipers, and more are a daily sighting. Alligators are not overly abundant in the waterways but are sighted in the back waters and on golf courses in the area. A large portion of properties in NSB have a resident gopher tortoise on site. Bats are not uncommon and are protected under Florida law.  
NSB is home to several golf courses: New Smyrna Beach Municipal, Hidden Lakes, Sugar Mill, Venetian Bay, and many others in neighboring cities. The Marine Discovery Center focuses on education and conservation of our gorgeous waterways and is a highlight among locals and the traveling community.
Come explore New Smyrna Beach and view 223 Crawford Rd! Welcome to paradise. 
Lindsey Baldwin is a 4th generation New Smyrna Beach native and local business owner. She prides herself in making sure her customers are educated about the local real estate markets, zoning restrictions, flood zones, and future land uses. She loves helping new residents feel at home and get acquainted with all New Smyrna Beach has to offer.