Vacation Renting New Smyrna Beach Homes
The homes pictured below fall into allowable "short term" rental zones i.e. vacation rental zone. Since there is no way to specifically search these through the zoning code (as there are several different codes) we will try and update this list periodically for accuracy. Buyers should always verify the zoning with the City of New Smyrna Beach prior to purchasing a property for the purpose of short term vacation renting. Also keep in mind that we manually create this list based on the zoning code and location, and listings change daily so if you are in need of a full list immediately please contact us as this may only be updated weekly. Use the City of New Smyrna Beach Zoning Map to search a specific address and confirm the zone, or scroll down to view the image map. The areas shaded in pink are designated short term rental zones within city limits. Bethune Beach and Silver Sands are county zoning, refer to Volusia County for details in these areas.
Short Term Rentals in New Smyrna Beach for Income Generation
It's important to remember that not all homes on beachside in New Smyrna can be rented less than 30 days at a time, aka vacation rented. The City of New Smyrna Beach has zoning restrictions in place in order to protect full time residents from transient traffic throughout the year. With a little research, it's simple to evaluate the areas at the beach that will work for your vacation rental investment home in NSB.
One way to begin is by searching real estate on the beachside in New Smyrna Beach and when you find a potential property that suits your needs just check the zoning. Once the zone is determined, you can find out if it falls into the following criteria. The City of New Smyrna Beach (this does not include Silver Sands and Bethune Beach) defines a short term rental as less than 30 days and permits "vacation rentals" in the following areas per the Code of Ordinances: East of the Intracoastal Waterway (referred to later as ICW) Zoning districts (this is beachside)- R-3A east of Atlantic Avenue, R-4, R-5, R-6, B-4, M-U, and BBH. East of ICW and south of 3rd Avenue zoning districts- R-2A. West of the Intracoastal Waterway Zoning districts: M-U, BBH. You can locate the address you are looking for on this zoning map: City of New Smyrna Beach Zoning Map
This process can be unnerving. If you are unsure just reach out to the Zoning Department at 386-410-2800. They are always happy to look into a property address for you. Lindsey Baldwin at Collado Real Estate can assist you in buying a home for sale in New Smyrna Beach to use as an investment vacation rental. We are happy to research zones for you and honored to help!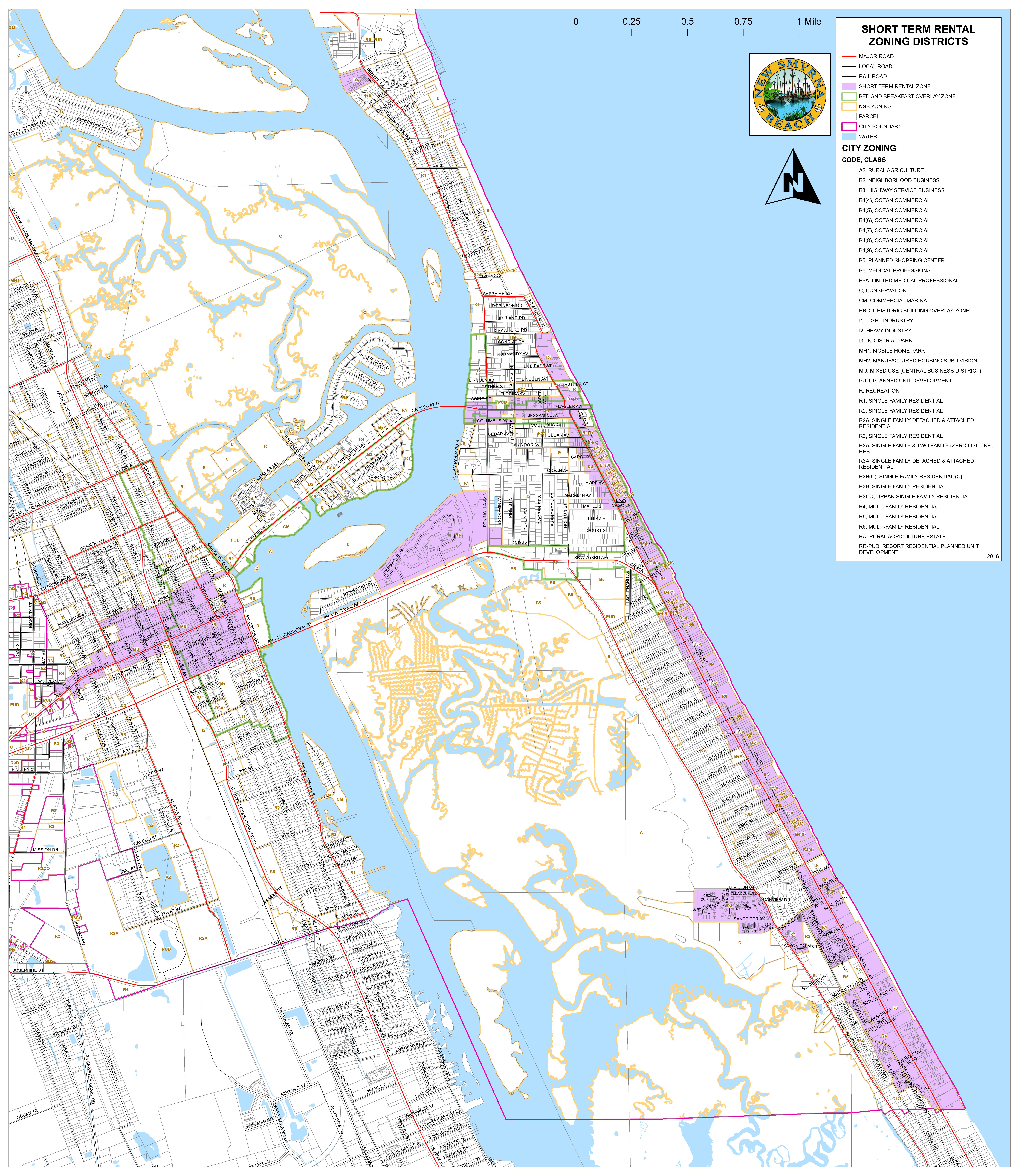 Buying A Condo For Investment/Vacation Rental Income Purposes
Condos for sale in New Smyrna Beach can be a little more straight forward. Since the condominium association governs the complex, the answer to whether or not an owner can vacation rent their unit can be found in the property listing details. This information is required to be placed in the New Smyrna Beach MLS. Some condo complexes will allow owners to rent on a 3 day minimum stay, a week, or monthly. However, some of the luxury and off-beach complexes will require a 6 month to year lease in order to rent your unit.
In order to make your New Smyrna Beach condo buying experience a little more user friendly, below is a search result link for complexes that do allow vacation rentals. Some condo purchasers are adamant about being in a complex that does not allow vacation rentals. Rentals can be noisy during holiday weekends and sometimes tenants do not treat the grounds as well as full time residents. Whichever your preference, we can help find the unit that fits your needs. In the meantime, this link will give you an idea of the condos for sale that will enable you to receive income from short term rentals.
Condos For Sale With Potential Rental Income
Homes For Sale With Potential Rental Income
Lindsey Baldwin is a 4th generation New Smyrna Beach native and local business owner. She prides herself in making sure her customers are educated about the local real estate markets, zoning restrictions, flood zones, and future land uses. She loves helping new residents feel at home and get acquainted with all New Smyrna Beach has to offer.