Is New Smyrna Beach Dog Friendly?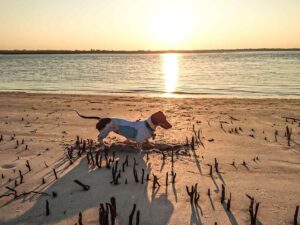 The beach itself in New Smyrna Beach has a designated area for dogs. Dogs are not allowed on most areas of the beach, in part because, NSB allows beach driving on about 5 miles of it's beaches. However, NSB has a stretch of beach surrounding Smyrna Dunes Park that is dog friendly and loads of fun. Not only is Smyrna Dunes Park a great place to bring your pup for a run and a swim, but it's a beautiful place to spend the day at the beach. Smyrna Dunes Park is on the north end of beachside and very easy to access. There's also the option of heading south to Canaveral National Seashore. Dogs are not allowed on the beach at Canaveral but they are allowed on the lagoon side which boasts lovely walking trails and calm waters for puppies to romp around.
Is New Smyrna Beach dog friendly around town?
The general walk-ability of beachside and riverside NSB make a perfect environment for walking your four legged family members. NSB goes one step farther. Many restaurants and bars are dog friendly so you can expect a variety of different options for lunch or dinner with your dog by your side. Due to the active nature of the NSB lifestyle, most business owners understand the fun of having your dogs along for the ride. Here's a quick list of the restaurants and bars in town that allow dogs, we may have missed a few but this list will give you a good start: Third Wave (outdoor dining), Cafe Verde (covered outdoor dining), Yellow Dog (outdoor covered), New Smyrna Beach Brewing Company (inside and outside), JB's Fish Camp (outdoor partially covered), Clancy's Cantina (outdoor covered), and Toni and Joe's (outdoor covered). In addition to the above mentioned, just about every restaurant in town with outdoor patio space will allow leashed pets. Take a stroll down Flagler Ave or Canal Street and you'll feel the dog friendly vibe. 
Living in New Smyrna Beach with a dog
If you are looking at homes in the area then your possibilities are endless. Beachside and Riverside areas for the most part are free of a homeowners association. Add a fence your yard per city or county setbacks, add doggie doors, or whatever needs your pup requires. If you are considering condo life then there are certain condos in New Smyrna Beach that allow dogs and certain condos that do not. Sometimes the condo association will have detailed restrictions, such as weight maximums or maximum number of pets allowed per unit. Feel free to request more information for a complete list or information on weight restrictions.
Dog Parks in New Smyrna Beach
New Smyrna Beach is home to several dog parks. New Smyrna Beach Dog Park located at 2698 Paige Ave, Glencoe, FL 32168 has loads of space and is close proximity to most areas of town. As mentioned above, Smyrna Dunes Park is ideal for those that want to be at the beach and have the luxury of enjoying the day with your pet. However, dogs must remain leashed while at Smyrna Dunes Park. Rotary Park in Edgewater is another fantastic option for a day with your furry friends.