Hurricane Matthew New Smyrna Beach
If you love the quaint little town endearingly known as NSB you've likely wondered or been concerned about the aftermath of Hurricane Matthew having brushed past New Smyrna Beach. Not to worry, the town stood strong during the Category 4 storm. Thankfully, the eye wall managed to stay 10-20 miles off the coast and therefore did not hurt homes and business to the extent it could have.
Hurricane Matthew Damage in New Smyrna Beach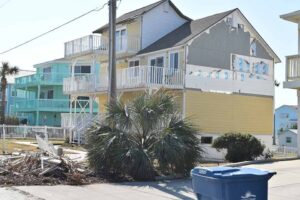 For those who stayed and who returned home the day after the storm the first notable damage was downed trees and power lines. Oak trees seemed to take the brunt of it, some of which were entirely uprooted. At second glance and the factor that remains the most common damage was to roofs. The storm surge really only effected the water front properties that do not have conservation zone protecting them or revetment. For example the area between Flagler Avenue and Sapphire Rd (North Beach Community Park) has major erosion and damaged seawalls. River front homes actually took a more serious hit than ocean front homes. Nearly every river front home or business sustained some form of dock damage during Hurricane Matthew, many of whom lost their docks entirely. There's really a sense of relief in the air and a "we got lucky" attitude after Hurricane Matthew in New Smyrna Beach. That's not to stay that there were not homes and businesses that sustained serious damage. One drive over the North Causeway and a glance at the south side near the bridge and you'll see a home that had its entire flat roof ripped off and is now labeled at condemned. As many are finding out their damage cost amounts to just under what their wind policy deductible is. Many off water homeowners have wind deductibles around $6000-7000 and water front homes are as high as $20,000-$30,000. Properties that require a new roof in some instances have to rely on cash of out of pocket.
Cleaning Up After Hurricane Matthew New Smyrna Beach
Tree debris seems to be the most common stack on the streets and the county and municipality are advising homeowners how to best get their stacks picked up. One example includes not mixing home debris with tree debris because they must be picked up separately. When a stack is passed time and time again this may be the reason, it's never a good idea to try and hide other debris under shrubbery and tree limbs. The City of New Smyrna Beach is providing Hurricane Matthew debris removal updates and have stated in the most recent update that the last day for pick up will be November 28th.
New Smyrna Beach Condos After Hurricane Matthew
New Smyrna Beach condos are, for the most part, very solid structures. The majority are concrete block and grounds are protected by sea walls. Some of the sea walls did sustain damage which therefore damaged the grounds and pools, one such example is Coronado Towers on North Beach. Other complexes, such as Surf and Racquet sustained damage to their awnings and roof. How do condo complexes handle hurricane damage? Well it's different for every complex. Healthy reserve accounts are the best case scenario which hopefully have the ability to cover either the damage or insurance deductibles without assessing owners. Some complexes opt to have a small assessment so that the reserves are not depleted for future deferred maintenance that may be more costly. Then there is the scenario where a complex has just completed a major project and reserves are low, when that's the case the costs fall in the laps of owners.
New Smyrna Beach Folks Help One and Other
The vibes after the storm were those of relief and neighborly help. Residents and business owners with trucks, saws and outside of the norm equipment made the rounds and helped. One resident and owner of Root and Tail Mobile Kitchen picked up his truck, some rope, and a few and made rounds all over town helping folks tow debris from roadways and driveways. Times like these remind us why we live in New Smyrna Beach. We help our neighbors when they need it for nothing more than a smile and a 'thank you'.
Hurricane Matthew Effects on New Smyrna Beach Real Estate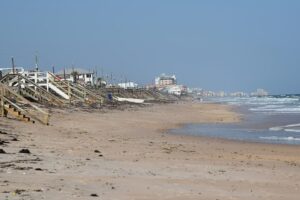 So far the cleanup efforts have been fast and diligent so New Smyrna Beach real estate has not seen dramatic effects. Condos for sale in New Smyrna Beach tend to be a little bit more ambiguous than homes in terms of cost of repairs. Most condominium associations request multiple bids on a project before determining the exact cost for owners, and some will have enough in reserves to cover damage. Homes for sale in New Smyrna Beach and the damage they may have incurred are in most cases more straight forward. The homeowners evaluates his or her deductible versus the cost of repairs and makes the most cost effective decision. If the damage is not immediately effecting the structural integrity of the home, some owners of houses for sale will just offer a credit for repairs to potential buyers. Fortunately since the storm we have had very little rain (knock on wood) and going into winter eases the pressure of repairing minor roof leaks or missing shingles. There are several houses on market, however that have significant damage and will likely pursue repairs very quickly so that their investments are not overly compromised.